ADDITIONAL INFORMATION ABOUT VOLKSWAGEN RADIO CODES AND DECODING
At RadioCode.ie we provide radio codes based on the unique serial number of your unit. Our stereo codes have proven to be more accurate because of this.
There are various reasons why a stereo code, based on the vehicle chassis number or registration, may not work.
These include:
* A previous owner / dealer may update the radio's software and code.
* A used car dealer may have changed the unit code before selling on the vehicle.
Please Note: There is no refund for codes that do not work as a result of the reasons stated above.
We recommended to unlock radio via cable + programming software and we able to do that.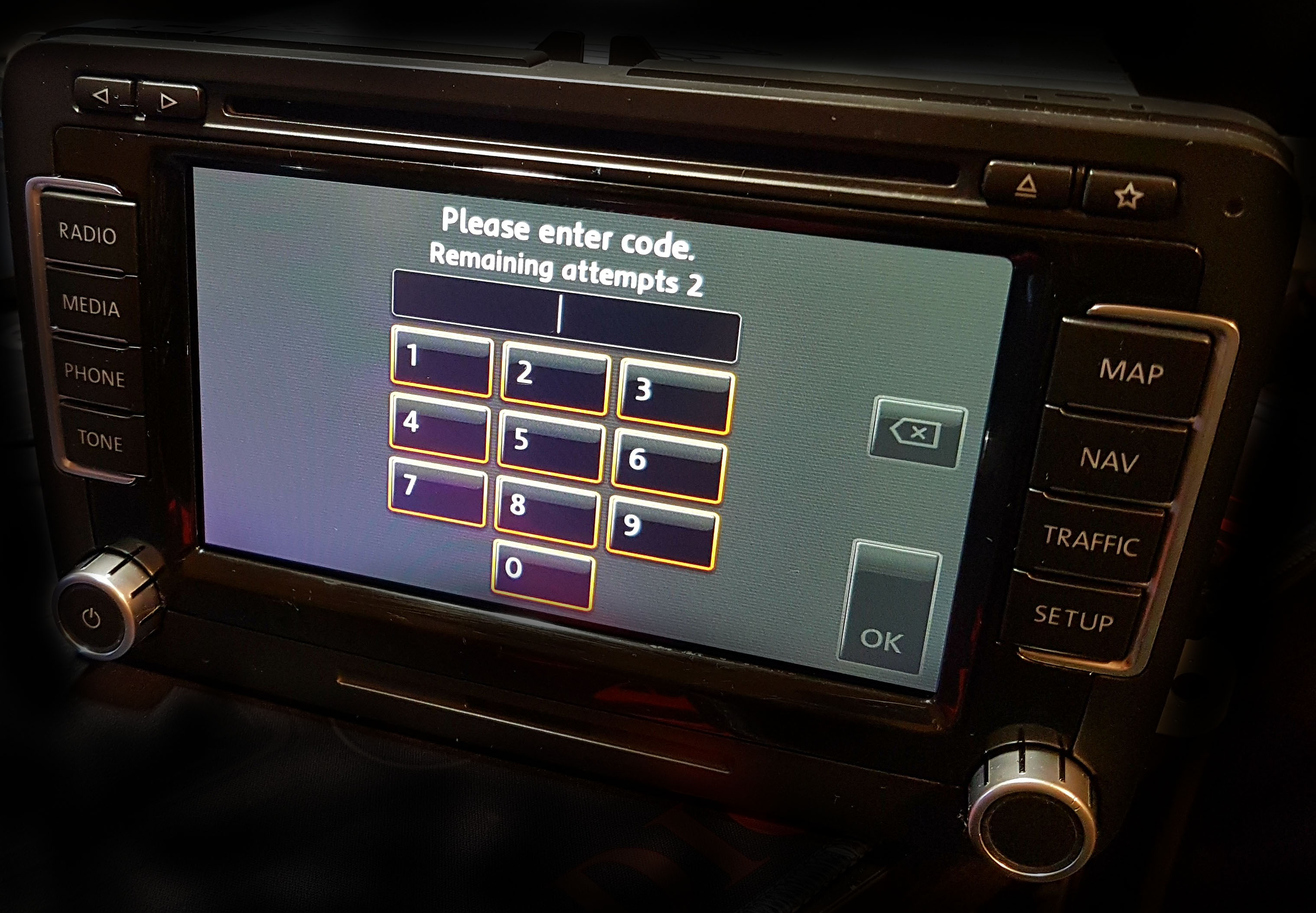 The Easiest Way to get the Unlock Code
If you require a 4 digit Code for your Volkswagen/ Audi/ Skoda/ Ford stereo/radio unit any model whether the code is lost misplaced or you have a purchased a unit without a code or an incorrect code. We can produce the code within hours. Quick, easy and simple.

If you have some unit to unlock Please add serial number of your radio, you can use WhatsApp or Viber as well.
HOW IT WORKS:
Just send us the Model along 14 digit code SN Serial number located on the side and on the sticker (label) usually beginning
Must start with VWZ (Vw) AUZ (Audi), SKZ (Skoda) SEZ** (SEAT) V**(Ford)
BP or GM (Blaupunkt) , RN, VW, PH, GM, FA etc. (Grundig ) at the beginning .
For Example:
Model: Volkswagen RNS510 Serial No. VWZ6Z7K7069999
Model: Volkswagen RCD510 Serial No. VWZ1Z3I4299999
Once we receive the Model of the unit and 14 Digit SN (7 digit for Ford), we can produce the code within hours. Quick and easy.
When we produce your 4 digit code it will guaranteed be the correct one for your unit. If in the very unlikely case we can't produce the 4 digit code for your stereo unit within 3 working days you will be refunded in full immediately no messing around. Buy with confidence.
Please note you are buying a single 4 digit Code for your Volkswagen/ Audi/ Skoda/ Ford stereo